How is the Santa Fe's transmission fluid changed?

How is the Santa Fe's transmission fluid changed?
Transmission fluid change is part of the scheduled vehicles maintenance services recommended by the manufacturers. With time, the transmission fluid on your car breaks down due to heat from the transmission. There are various ways you can know when it's time to change the transmission fluid in the Hyundai Santa Fe.
How to check your transmission fluid?
The first and the most reliable method should be to check your Santa Fe owners' manual. Under normal circumstances, Hyundai recommends changing your fluid after every 50,000 miles or a little over 40 months.
The second way to check your fluid is to use a white paper towel. A fluid that is still in great condition should be pinkish in color while worn out fluids are darker. Extremely worn out fluid tends to smell burnt and is black in color. This is a simple procedure for a trained Hyundai mechanic to perform and should be done regularly according to the owner's manual.
Getting an expert's opinion
If you're still unsure if you need to change your transmission fluid, you can ask a trusted mechanic. Your local Hyundai mechanic is a reliable source and can tell you when it is appropriate to do a transmission fluid change on your car.
Due to the complexity and care needed to change the transmission fluid, we recommend always servicing your vehicle at your local Hyundai dealer. For those with advanced knowledge who want to change the transmission fluid themselves, follow the steps outlined below.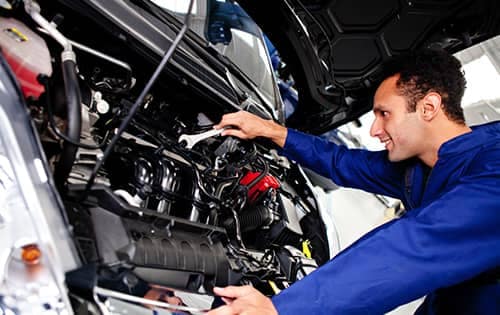 8 Steps to changing the Santa Fe transmission fluid
1. The first step is to get your Hyundai Santa Fe raised to give you access to the undercarriage. Make sure that the car is level. Loosen the mounting bolts on the engine cover on the undercarriage to take it off.
2. Use a 24mm socket wrench to detach the drain bolt and then drain the old transmission fluid into a catch pan. As this happens, clean any dust and dirt off of the drain bolt.
3. Take off the airbox, located on the upper side of the engine, to have access of the plastic fill bolt beneath. Use a 3/8″ socket to remove the fill bolt.
4. Put the drain bolt back on when the draining is done so that when you put in the new fluid it will not drain right out.
5. Remove the oil level cover. If you have inserted more than the required amount of fluid, it will start to come out from this opening. This is an indicator that you should stop.
6. Stick a clean funnel in the hole where you removed the fill bolt and pour in your new transmission fluid. Pour in the fluid until it starts to come out from the level indicator.
7. Replace both the fluid indicator cover and the fill bolt. Tighten them properly to avoid any spillage or leakages. Make sure the bolts are clean before you put them back.
8. Replace the bottom plastic engine cover and the plastic air intake box. 
Changing your Santa Fe's transmission fluid is a good way to keep it running well for a long time. You should always follow the maintenance and service specifications as outlined by your car manufacturer through the owner's manual, or check the manufacturer's website for more details.
Want to learn more about other regular and recommended maintenance? Ready to bring your Santa Fe in for service? Contact our staff at Boch Hyundai for more information or to schedule a service appointment!
If you enjoyed reading this post and found it helpful, please share with your friends and family, thank you!
**Disclaimer - If you choose to follow the instructions in this post, you assume all responsibility for any outcome that may happen. We do NOT recommend working on your own vehicle.
Sales hours
Monday - Friday

9:00AM - 8:00PM

Saturday

9:00AM - 6:00PM

Sunday

12:00PM - 5:00PM